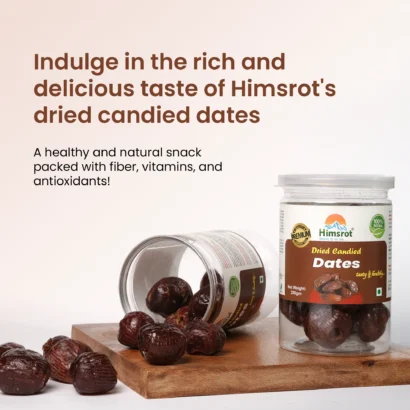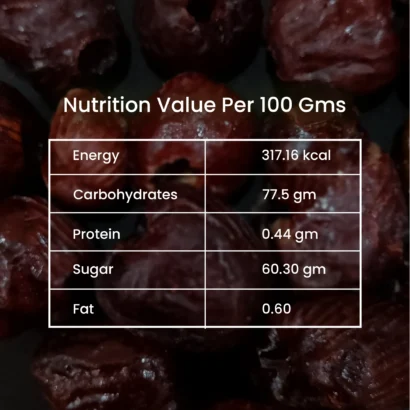 Himsrot Premium Large Dried Dates Organic Whole Natural Dried Fruit Healthy Snacks for Kids & Adults, 200g
Vendor: Himsrot
SKU: Dried Dates
Product Type:  Dried Fruits
100 in stock
Compare
Product information
Himsrot Organic Dried Dates are made from farm-fresh whole dates dried bathed in rays of sunshine and dried to perfection to offer an authentic royal taste packed in an air-vacuumed, resealable jar. This way, we ensure the rich taste profile and freshness of our dry fruits.
The Organic Dried Dates are bigger in size, softer, juicier, and picked from the best farms. Dried Dates are nutritious and have high disease-fighting antioxidants along with a good quantity of protein, fiber, and vitamin B6 that improve brain functionality, reduce the risk of cancer, help fight diabetes, and help in keeping kidneys healthy.
More Information about Organic Dried Dates
100% natural Sun Organic Dried Dates contain high disease-fighting antioxidants good quantity of protein, fiber, and vitamin B6.
They boost the immune system, keep skin healthy and give you an energy boost to stay fresh at all times. These berries are low in calories but provide an energy boost when consumed and help regulate metabolism.
Our resealable jar-packed Dried Dates can be enjoyed in multiple ways. Snack on them straight out of the box at home or on the go.
Our Organic Dried Dates are stored hygienically in resealable vacuum-packed food-grade packaging material to retain their freshness and uniformity in terms of size, taste, and color.
| | |
| --- | --- |
| Weight | 12 kg |
| Dimensions | 7 × 8 × 19 cm |
| color | Green, Red, Yellow |