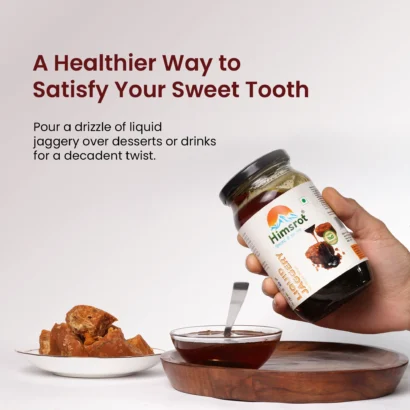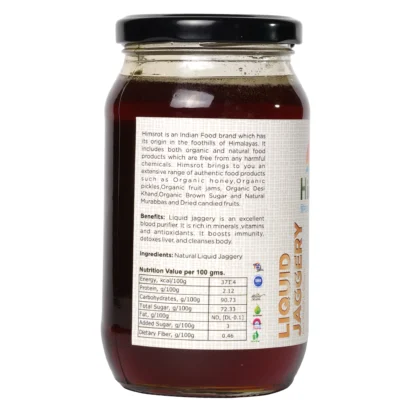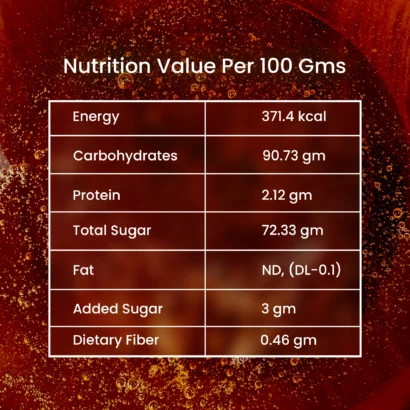 Product information
Himsrot's Liquid Jaggery, the perfect natural sweetener for your daily needs! Made from pure sugarcane juice, our liquid jaggery is free from any harmful additives and preservatives, ensuring that you get only the best quality product. Not only does our liquid jaggery taste delicious, but it also boasts several health benefits. It is packed with essential nutrients such as iron, magnesium, and potassium, which can help improve your overall well-being. Additionally, its low glycemic index makes it an excellent alternative to refined sugar for those with diabetes. Our liquid jaggery is versatile and can be used in a variety of ways. Use it to sweeten your tea or coffee, add it to your morning smoothie, or drizzle it over your pancakes and waffles for a healthier breakfast option. You can even use it as a marinade for your meats and vegetables to add a touch of sweetness to your savory dishes. At Himsrot, we believe in providing our customers with the best quality products, and our liquid jaggery is no exception. Our manufacturing process ensures that the product retains all its natural goodness, making it a healthier and tastier option than traditional refined sugar. So why wait? Switch to Himsrot's Liquid Jaggery today and experience the goodness of nature in every drop!
Pure liquid jaggery from sugarcane juice.
No additives or preservatives.
Rich in essential nutrients.
Low glycemic index.
Versatile for tea, coffee, smoothies, and cooking.
Carefully manufactured for natural goodness.
Healthier and tastier than refined sugar.
| | |
| --- | --- |
| Weight | 12 kg |
| Dimensions | 7 × 8 × 19 cm |
| color | Green, Red, Yellow |