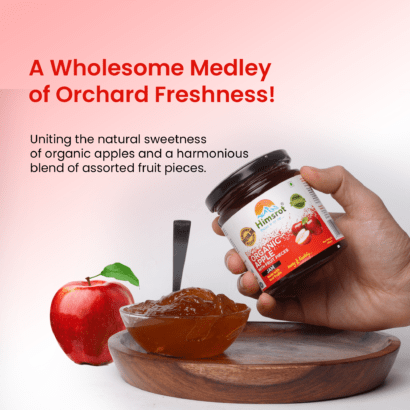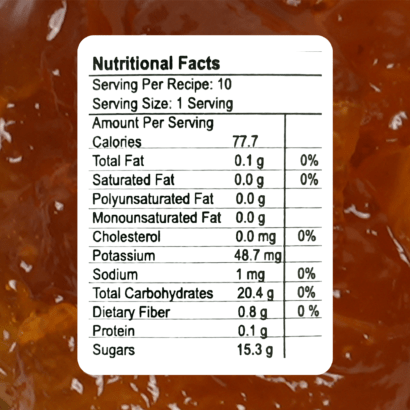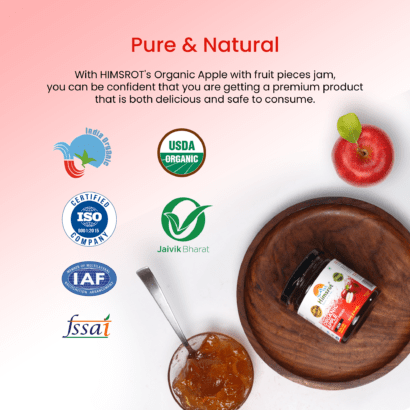 Himsrot Organic Apple Marmalade, 250g
Vendor: Mithlesh Agriculture
SKU: ORGANIC APPLE JAM
Product Type: Jams & Jellies
100 in stock
Compare
Product Description: Himsrot Organic Apple Marmalade is a wholesome fruit spread made with real apples. It is naturally sweet and nutritious, with no added sugar or preservatives. It is also vegan and gluten-free, making it a great choice for people with dietary restrictions.Each batch of marmalade is hand-stirred to ensure that it contains chunks of fruit for a rich texture and flavor. It is made using traditional methods, which preserves the natural goodness of the apples. This marmalade is a good choice for people who are watching their weight or trying to live a healthy lifestyle. It is a good source of vitamins and minerals, which can help to boost your immune system
and overall health. Himsrot Organic Apple Marmalade is a good source of energy and fiber. It can help to keep you feeling full and satisfied. It is also a good source of vitamins and minerals, including vitamin C, potassium, and fiber. These nutrients can help to boost your immune system, improve your skin health, and regulate your digestion.
Himsrot Organic Apple Marmalade is a versatile spread that can be enjoyed on a variety of foods. It is a delicious addition to toast, bagels, pancakes, and waffles. It can also be used to make sandwiches, pastries, and desserts
High fruit content: Made with real fruit, naturally sweet and nutritious
Chunks of fruit: Hand-stirred for chunks of fruit and rich flavor
Traditional methods: Made using traditional methods to preserve natural goodness
Vegan and gluten-free: This marmalade is a good choice for people with dietary restrictions.
Low in fat and calories: Healthy choice for weight watchers and health conscious people
Energy and fiber boost: This marmalade can help to keep you feeling full and satisfied.
Rich in vitamins and minerals: Good source of vitamins and minerals for immune system
and overall health.
| | |
| --- | --- |
| Weight | 12 kg |
| Dimensions | 7 × 8 × 19 cm |
| color | Green, Red, Yellow |