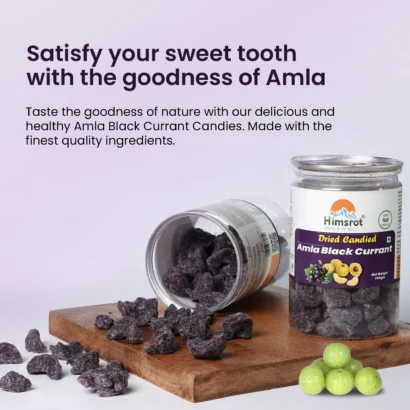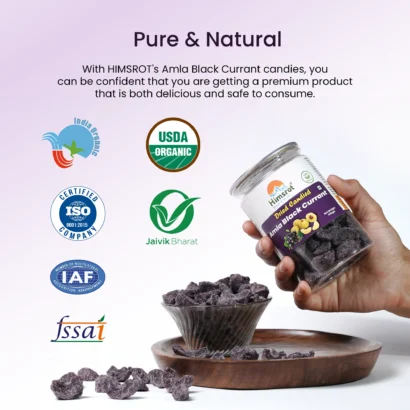 Amla Black Currant Dried Amla Candy 200g
Vendor: Mithlesh Agriculture
SKU:  Amla Black Currant
Product Type: Amla
98 in stock
Compare
Product information
Himsrot's Amla black currant dried candied – a delicious and healthy snack that combines the goodness of all-natural ingredients with a mouthwatering taste. The unique combination of Amla and black currants makes this candied fruit a nutritional powerhouse. Amla, also known as Indian gooseberry, is a nutrient-rich fruit that has been used for centuries in Ayurvedic medicine. It is a great source of vitamin C, antioxidants, and other essential nutrients that help boost immunity, fight inflammation, and promote overall health. Black currants, on the other hand, are packed with vitamins and minerals, including iron, potassium, and vitamin C. They are known to improve digestion, support eye health, and strengthen the immune system. The process of drying and candying the fruits preserves their nutrients and flavor, making them a healthy and tasty snack option. The sweet and tangy taste of the candied fruits is perfect for snacking on its own, or adding to your favorite recipes. Whether you're looking for a mid-day snack, a pre-workout energy boost, or a guilt-free dessert option, Himsrot's Amla black currant dried candied is the perfect choice. What sets this product apart from other snacks is its commitment to using all-natural ingredients. It is free from harmful additives such as artificial colors, flavors, and preservatives, making it a truly guilt-free snack option. The resealable bag packaging ensures that the product stays fresh and flavorful, even after opening. If you're looking for a delicious and healthy snack that satisfies your sweet tooth without compromising on nutrition, Himsrot's Amla black currant dried candied is the perfect choice. With its unique blend of all-natural ingredients and a mouthwatering taste, it is sure to become your go-to snack option. Order yours today and experience the perfect balance of taste and nutrition!
Healthy and tasty snack made from all-natural ingredients.
Amla and black currants provide essential vitamins and minerals.
Drying and candying process preserves nutrients and flavor.
Sweet and tangy taste perfect for snacking or adding to recipes.
Convenient, resealable bag for easy storage and enjoyment.
| | |
| --- | --- |
| Weight | 12 kg |
| Dimensions | 7 × 8 × 19 cm |
| color | Green, Red, Yellow |