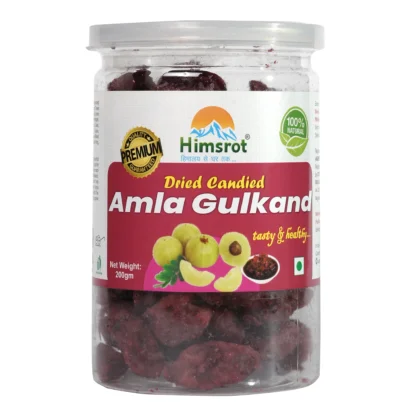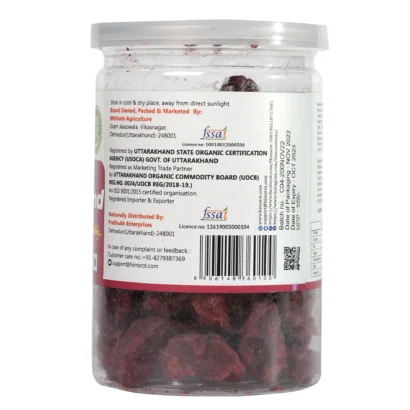 Amla Gulkand Dried Amla Gooseberry Candy 200g
Vendor: Mithlesh Agriculture
SKU: Amla Gulkand
Product Type: Amla
99 in stock
Compare
Product information
Dried Amla Candy is always packed farm-fresh and ship to you in an air-vacuumed, resealable jar. This way, we ensure the rich taste profile and freshness of our dry fruits. The resealable jar is made handy so you can carry our Dried Amla Candy anywhere with you and enjoy them straight out of the package at work, at home, at college or pack them for your kids at school.
Amla also called Indian gooseberry is an amazing source of Vitamin C which is a powerful antioxidant and vital to your nervous system, immune system, and skin, Vitamin B5 is necessary for creating fatty acids, while vitamin B6 which many enzymes and cells in your body need to function, helps convert food into energy.
This immunity-boosting food also contains copper, manganese, and potassium. Incorporating Dried Amla Candy into your diet may improve your overall health while offering health benefits like diabetes control, better digestion, healthy eyes, improved immunity, memory, and brain function making it one of the healthiest best choices available.
100% natural Sun Dried from the Himalayas, these are good for an active lifestyle and are an ideal superfood for weight watchers
More Information about Himsrot Gulkand Dried Amla Candy
100% natural Sun Dried sweet Amla candy from the Himalayas good for an active lifestyle added with natural rose petals made gulkand.

Amla or Indian gooseberry is an amazing source of nutrients for our bodies it contains vitamin C, vitamin A, fiber, and traces of calcium, vitamin E, etc, all of which contribute to boosting immunity, improving your vision, and maintaining bone health.

Amla is a great source of protective antioxidants, fiber, enzymes, and immunity-boosting vitamins. Tangy sweet taste is delicious and refreshing.

Premium Quality Amla Candy is manufactured from fresh-grown Amla which not only tastes good but also is an immunity booster. Naturally grown in mountains, dried in direct sunlight, and packed in a resealable jar for full taste and nutrients.

Perfect health-supporting, diet-friendly alternative that can be consumed any time of the year. Good for an active lifestyle and an ideal superfood for weight watchers.
| | |
| --- | --- |
| Weight | 12 kg |
| Dimensions | 7 × 8 × 19 cm |
| color | Green, Red, Yellow |